"33 days before the conclusion of this astronomical event on 23rd Sept, 2017, another remarkable total solar eclipse will take place. And just like the solar eclipse which occurred at the start of World War One (at the beginning of the period of the unbinding of Satan), this event will also transpire on Aug 21st, 2017 - the feast of Our Lady of Knock. While it is difficult to know for sure if this event has any real prophetic significance, the fact that it will take place at the end of the period of Satan's greater power foretold in the prophecy of Pope Leo XIII, and that it so close to the Rev 12 sign that occurs on 23rd Sept, 2017, prompts us to ponder whether this solar eclipse is part of the "sign of Jonah" sequence that began on Aug 21st, 1914. Only instead of appearing over the location of ancient Nineveh, this solar eclipse is concentrated entirely upon America, and the path of totality can only be seen across the central United States."
Mar. 31, 2013
God Will Act
Jesus
Can a spinning top move in a straight line or find a clear direction? It is too busy turning again and again upon itself. It resists any hand that tries to send it in a clear direction. It exists and acts only for itself, with no heed of anything else.

This is the world, spinning relentlessly out of control, caught up in forces which only propel it more quickly. Nothing gives purpose or meaning. Nothing else is allowed to guide mankind's course which is now caught up in powers far beyond its strength.

Will I act? I must act. I must take steps to stop mankind's selfishness. These will be merciful acts that will prevent far greater destruction. However, the acts themselves will not be seen as merciful. I will explain all this ahead of time so that my people, at least, will understand.
Mary
Mankind is weighed down with past decisions, often made by others. Some are no longer living but their sins and the power of their sins live after them, perpetuated by those who follow in their footsteps. Their sinful decisions have become "the law of the land" (as they say). America is weighed down by its history and it refuses to repent. It refuses to repent of its history and go in a different direction. What else can the heavenly Father do? He must stop America in its tracks so it cannot pursue its destructive path. This is an act of mercy.
~~~~~~~~~~~~~~~~~~~~~~~~~~~~~~~~~~~~~~~~~~~
MO. Dem Posts, Deletes Call for Trump's 'Assassination'
<
here she is in Ferguson
Charlottesville: If the Nazis are the spawn of Hitler, then Antifa and BLM are the spawn of Lenin and Stalin.
"...too many are are purposefully ignoring the real meaning of the other equally dangerous set of thugs who have caused violence in Portland, Berkeley, Ferguson, Evergreen College"
Antifa officially declared a terrorist group by New Jersey's Homeland Security office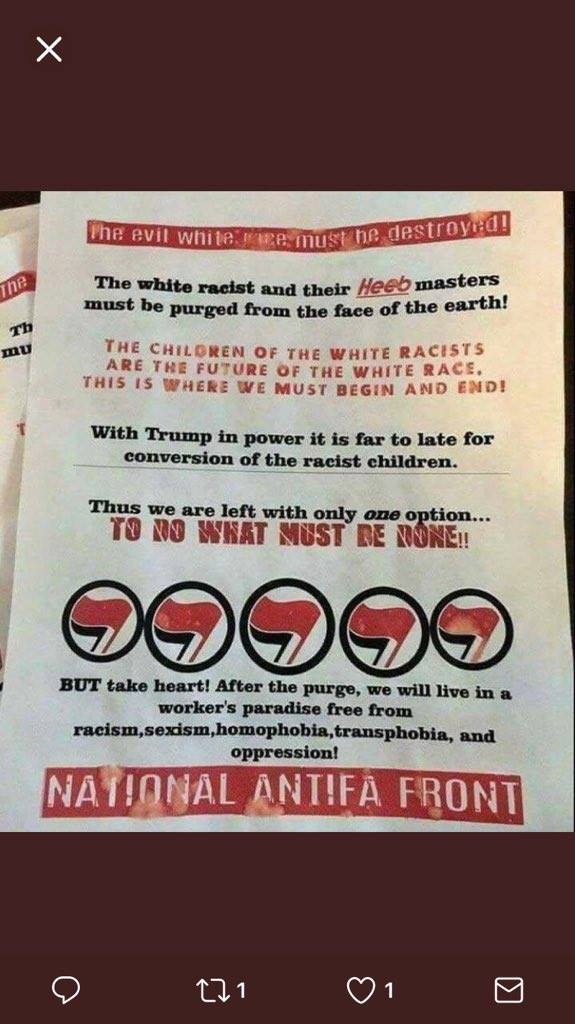 Charlottesville Is All Coming Together : The Convenient Witness Has Connections To George Soros.